Nineteen Graduate Students Awarded Presidential Scholarship
November 18, 2021
Almost 20 Jackson School of Geosciences graduate research assistants have been awarded The University of Texas at Austin's Unrestricted Endowed Presidential Scholarship. Each will each receive at least $2,500 in unrestricted funds.
Congratulations to (l to r):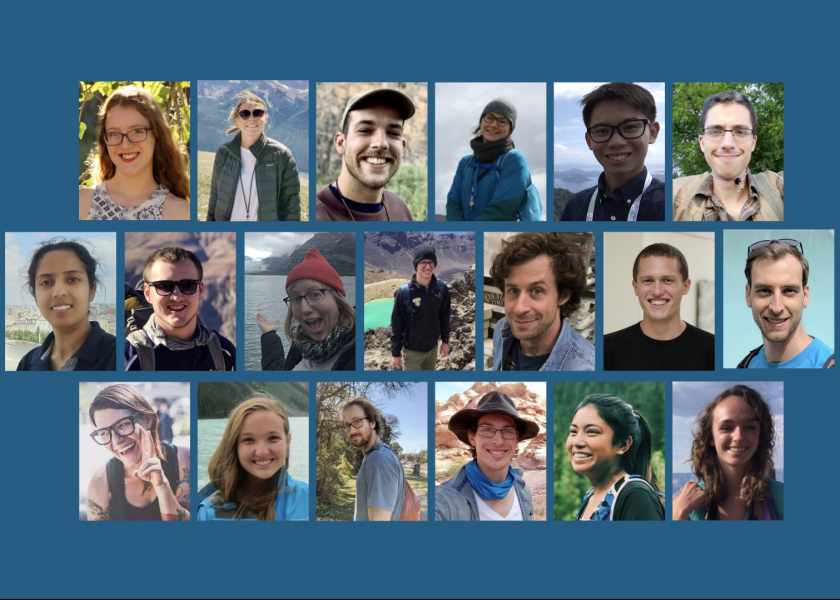 Claudia Banks
Sarah Brooker
Ethan Conrad
Sarah Davis
Samuel Fung
Juan Gutierrez
---
Harpreet Kaur
Josh Malone
Naoma McCall
Nick Meszaros
John Moretti
Zach Murphy
Simone Puel
---
Veronika Redensek
Cat Ross
George Segee-Wright
Travis Stone
Abby Varona
Claire Williams
Each year, students are nominated for the scholarship by their advisors on behalf of the Jackson School's Department of Geological Sciences. Across campus, there is a pool of 2,000 qualifying (GPA 3.75+) students from which a fraction are awarded the scholarship.
"The recipients of this prestigious merit-based award are the best and brightest in the UT and JSG student body," said Daniel Stockli, chair of the Department of Geological Sciences. "The department is very proud of each student's accomplishments for receiving this tremendous honor." 
---
Compiled by Kristin Phillips, Department of Geological Sciences