Announcing the 2022 Departmental Awards
May 3, 2022
The Department of Geological Sciences (DGS) is pleased to recognize a number of staff members, faculty and students for their extraordinary efforts in the 2021-2022 academic year.
Congratulations to all!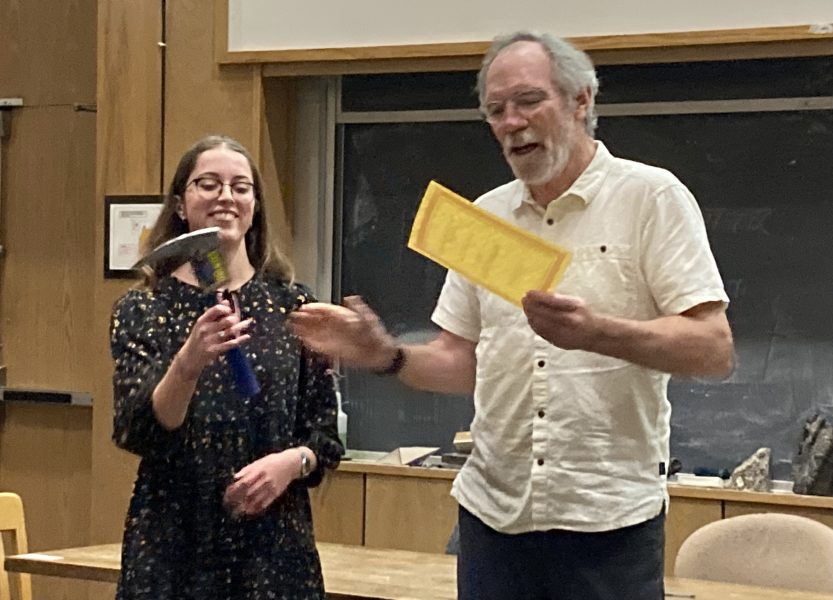 Estwing Hammer Award: Sponsored each year by the Estwing Corporation which provides a hammer, this award recognizes a student for consistently outstanding performance in the Introductory Field Methods (Geo420K) and Field Camp (Geo660) courses. This year, DGS would like to recognize:
Rosalind Moreman
Groundwater Field Methods Award:
Tyson McKinney (Graduate Student)
Daphne Smith (Undergraduate Student)
GSEC Student Service Award: Awarded by the graduate student community, this award recognizes the outstanding efforts in support of the Jackson School of GeoSciences graduate student community by one of its own.
Emily Hinshaw
DGS would also like to acknowledge the two GSEC Student Service Award honorable mentions:
Nicole Czwakiel

Carson Miller
Graduate Student Best Paper
Kevin P. Meazell for Earth and Planetary Science Letters: The evolution of seafloor venting from hydrate-sealed gas reservoirs
DGS would also like to recognize the work of five runner-ups for the best student paper award:
Annual Best Graduate Student Presentation Awards: The best PhD talks are awarded by polling of the student audiences across the different venues for either fall or spring semesters.
Sebastian Ramiro-Ramirez (Fall 2021) for his talk before his defense of Integrated Stratigraphic and Petrophysical Analysis of the Wolfcamp at Delaware Basin, West Texas, USA (Peter Flemings, supervisor)
Scott Eckley (Spring 2022) for his talk "Martian Magmatism: Inside and Out" (Richard Ketcham and John Lassiter, supervisors)
Masters Saturday Best Speaker Awards: The best Masters Saturday talks are awarded by an audience poll.
Gabrielle Varona (1st Place) for Paleogeographic Evolution of the Orange and Green Sands in WR 313, Deep-water Gulf of Mexico (Peter Flemings, supervisor)
Andrew Kleiman (2nd Place) for The Cobalt Supply Chain and Life Cycle Assessment of Lithium-ion Battery Energy Storage Systems (Michael Young, supervisor)
Knebel Teaching Awards – A gift from the Knebel Family highlights excellence in graduate and undergraduate teaching. This year, DGS is recognizing three faculty with the Knebel Teaching Awards: an undergraduate introductory award based on both student CIS results and faculty input and an upper-level undergraduate and graduate course awards are voted on by the students.
Daniel Trugman for undergraduate course Python for Geoscience Research
Christopher Bell, David Mohrig, and Mary Poteet for introductory course Physical Geology (GEO 401)
Daniella Rempe for graduate course Physical Hydrology
Outstanding Teaching Assistant Awards: Nominated by professors, these awards recognize graduate teaching assistants who have distinguished themselves through excellence in teaching and innovation.
Fernando Rey – Fall 2021
Nicholas Meszaros – Fall 2021
Kristina Butler – Spring 2022
Cullen Kortyan – Spring 2022
Mineralogical Society of America Undergraduate Prize:
Amber Nguyen
R.L. Folk/E.F. McBride Petrography Contest:
Nicholas Meszaros (1st Place, Graduate Student)
Wade Aubin (2nd Place, Graduate Student)
Timothy Evan Leonard (1st Place, Undergraduate Student)
Collin Hoffman (2nd Place, Undergraduate Student)
Austin Geological Society Winner: These undergraduates are recognized in preparation for the field school.
Warren Wegener
Catherine Schmidt
Michael Chiappone

USGS Internship
Claire Pluim
Department of Geological Sciences Staff Service Award:
Rosanna D'Souza
BSO Staff Service Award:
Julie Lake
University of Texas Staff Service Awards:
Philip Guerrero – 35 years
Jennifer Jordan – 20 years
John Hash – 10 years
Kenneth Bader – 10 years
Liath Appleton – 10 years