Missing: Where is the Sedimentary Selenite?
March 31, 2023
A reflection by Alexandra Walters, graduating as a double Geoscience and Film major in 2023.
This is a headline I never thought I would read, let alone write. Yet last September, a gypsum rock—a form called selenite—was stolen from the Jackson School of Geosciences' Rock Garden; to my surprise, it was a big deal. The selenite was a lovely and unique specimen.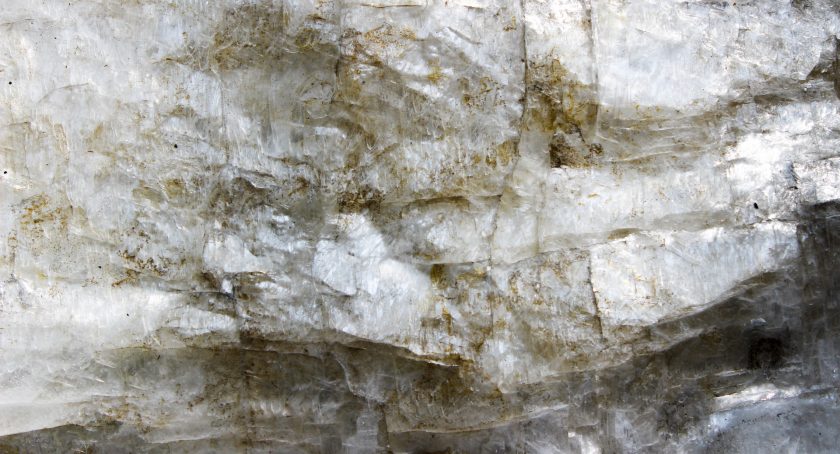 The Rock Garden is an outdoor museum where rocks collected by faculty and students from The University of Texas reside. These rocks are a tool for lower-classmen in that they are used by instructors to teach different concepts. In short, the rocks must stay in the Rock Garden for education's sake.
But anyone visiting the JSG Courtyard knows how many different rocks are placed under the trees. So, if there are at least a few rocks, why would anyone care if one went missing?
My short answer to this question is always, "because I spent last summer photographing, mapping, and cataloging these for a tour of the rock garden." However, the reason is much more complex than "we will notice if you take a one-of-a-kind rock and be forced to change the tour."
The rocks in the Rock Garden are artifacts of student and faculty research. They're important specimens that have relevance to education, whether the rocks act as a surface for undergraduates to practice measuring strike and dip, or as an example of certain rock facies. They also hold sentimental value to the people who worked with them, and they're a gentle reminder of the innovations and achievements the research teams of Jackson School of Geology have achieved.
So, the rocks represent a few bits of old research. Why put them outside if they are so important? Let me answer that with a fun little anecdote. After I undertook a cataloging project, my childhood friend's family was visiting, and her parents asked if we could keep her five-year-old brother occupied for a couple of hours. Where do you take a ball of chaos when you need to stay on campus? The Rock Garden seemed like a place where he would cause the least amount of destruction and was, thus, the most logical place.
I have never seen this kid behave calmly for as long as he did. He explored every inch of the Rock Garden. He touched each mineral and listened intently as I rambled on about the histories and origins of each specimen. When I was done, he gently grabbed my hand and asked if we had any more rocks he could look at. I took him into the geology building (JGB), and we diligently explored each floor, searching for the coolest mineral. Today, this kid has an impressive rock collection. I often receive texts from his mom, asking about various new additions to his collection or photos showing off his favorite samples.
The Rock Garden is the face of the geology building and the students who learn there. It represents their hard work and dedication to innovation and progression in the natural sciences. Without an impressive rock garden, not only would the geology school lose an important tool for the student's learning, but it would also lose the evidence of the achievements we've made in research and the thing that draws potential geologists and rock enthusiasts in.