Daniel Stephen Barker (1934-2015)
Daniel Stephen Barker (F.M. Bullard Professor of Geology Emeritus at The University of Texas at Austin's Jackson School of Geosciences) died May 21, 2015, in Austin. He was born in Waltham, Massachusetts, on Feb.27, 1934, the only child of Kenneth Watson Barker and Sadie Brown Barker.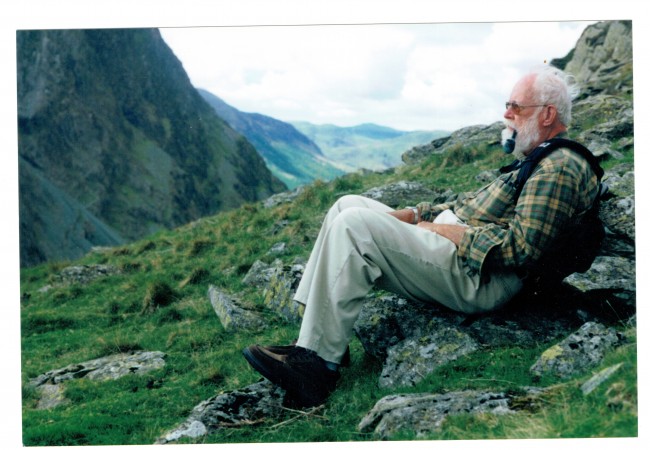 Raised in rural Maine, he was probably the last UT faculty member to be educated in a one-room schoolhouse. After graduating in 1952 as valedictorian from Cony High School in Augusta, Maine, he attended Yale University on full scholarships, graduating magna cum laude in 1956. He then earned his M.S. in Geology in 1958 at the California Institute of Technology, and in 1961, his Ph.D. from Princeton University. He came to Austin in 1963 and stuck. In 1964 he and Barbara Catherine Mackin wed and produced Molly in 1965 and Amy in 1967. These they considered their finest achievements. He and Barbara remained the best of friends long after their marriage ended in 1984, until her death in 2002. In 1994 Dan and Rosemary Brant married, in a joyous union that lasted until her death in 2006. He is survived by his daughters and sons-in-law Molly and Billy Gray of Austin, and Amy and Mark Rielly of Needham, Massachusetts; a grandson, Mackin Murphy Rielly; a granddaughter, Sadie Fallon Daphne Rielly; and a stepgranddaughter, Paloma Gray. Four first cousins, Jane E. Barker, Ph.D. of Bar Harbor, Maine, Judith B. Carducci of Hudson, Ohio, Donald C. Freeman, Jr. of Brewster, Massachusetts, and Hank Freeman of Provo, Utah, also survive him, as does his cat, Big Joe.
Dan enjoyed 36 years of teaching and research at the University. He supervised seven doctoral students and 11 master's students. He demanded that each come up with his or her own original research topic and write a proposal that competed with him for his endowed research funds. His colleagues benefited from his enthusiastic help and cheerful humor. He inherited great empathy for animals from his grandfather, Maine farmer Zebediah Barker, of whom it was said, "His animals were always glad to see him." Colleagues and students felt the same way about Dan. In the undergraduate classroom, his approach was traditional, but engaging. For graduate students, he produced a teaching collection that forced them to think independently and on their feet. And he had nearly one of everything, acquired on vacation and on field trips with experts that spanned the globe. His stories from those expeditions provided a colorful backdrop for the science. His lecture notes and reference lists were up to date. At 10 a.m. on Tuesdays he could be found at the new acquisitions table in the Walter Geology Library.
In 1994, Dan was awarded the Jubilee Medal of the Geological Society of South Africa, and the Knebel Distinguished teaching Award in the Department of Earth and Planetary Sciences in 1976, 1980, and 1987. In 1991 and 1999, the College of Natural Sciences conferred on him the Teaching Excellence Award. He was most gratified when students called him Obi-Wan. He was a senior fellow of the Mineralogical Society of America and the Geological Society of America, and received several research grants from the National Science Foundation. Dan was a Fulbright Senior Research Fellow in Denmark in 1974. He published a textbook, several guidebooks, five encyclopedia articles and more than 50 peer-reviewed papers and book chapters. Dan believed in careful study of rocks as key to understanding how the earth works, and he collected samples all over the world, from Greenland to the Cape Verdes, Scotland to Italy, New Zealand to Namibia, Easter Island to Patagonia and Japan to Turkey. During these travels, he met many strangers, some of whom were not very nice. His enthusiasm for collecting inspired his colleagues to do the same. In 2013, he made a substantial contribution to start the Jackson School of Geosciences International Rock Collection Endowment, a resource for teaching and research that will be useful to geologists all over the world.
Dan retired in 1999, but continued his research. He made a variety of contributions to the University of Texas Digital Repository, a resource that can be searched and accessed online. Included are PowerPoint slide shows on igneous rocks and folders of published and unpublished data. All geologists, specialists and non-specialists alike, will find some material to enjoy among Dan's catalog of work. Travel, photography, pipe smoking, classical music, reading, New York Times Sunday crossword puzzles, food and family were among his loves. He enjoyed puns, even good ones, and tried to hide Down-East humor that "was so dry it made your nose bleed," according to one friend. He thought he had a good life.
Memorial gifts in Dan's memory can be directed to the endowment he created, The Jackson School International Rock Collection. Contact the Development and Alumni office for further assistance.