Stephen Clabaugh (1918-2010)
Stephen Clabaugh was born in Carthage, Texas to Edmund Cumberland Clabaugh and Cosette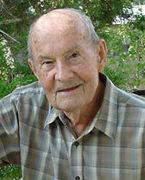 Hawthorn on April 2, 1918. He graduated from the University of Texas in Austin in 1940 with a degree in Geology. He earned his Masters from UT in 1941 and his Ph.D. from Harvard in 1950. After working for the U.S. Geological Survey (USGS) from 1942 to 1946, he began his teaching career at UT in 1947. In 1945 he married Patricia Sutton, a geologist working for the USGS in Washington, D. C. They moved to Austin in 1947. Through the years, their sense of adventure and widespread family led them on many travels when not enjoying their home on the Pedernales arm of Lake Travis.
His interests included gardening, growing vegetables as well as flowers, drawing and painting; he was an animal lover and an avid reader. He was, above all, a teacher and a storyteller and he loved to share his enthusiasm and interests with family and friends. He touched the lives of many people throughout his lifetime.
He taught at the University of Texas for 33 years. He was the Fred M. Bullard Professor Emeritus in Geological Sciences. He taught physical geology, mineralogy and petrology, metamorphic petrology, and an elementary field geology course, among others. He received the UT Student's Association Award for teaching excellence in 1957. In 1958, he received the Minnie Stevens Piper Award for "outstanding academic, scientific, and scholarly achievement and for dedication to the teaching profession." He served as Department chair from 1962 to 1966. In 1974 and again in 1978, he received UT's Carolyn G. and G. Moses Knebel Distinguished Teaching Award. Through the years, he supervised an impressive 11 Ph.D. students and 33 Master's students.
He was a member of the Geological Society of America for more than 50 years. In 2006 he was inducted into The Jackson School of Geosciences Hall of Distinction.
Clabaugh, an emeritus professor in the Jackson School, died December 2, 2010 at the age of 92.
His wife of 52 years, Patricia, and two brothers preceded him in death. He was survived by three daughters, Catherine Davey and husband Richard Davey of Spicewood, Texas; Cynthia Frederick and husband Steve Hempell of Lillooet, British Columbia, and Deborah DeWig and husband Michael DeWig of Portland, Oregon. He had six grandchildren, Shandra Singer (husband James), Jocelyn Dowd, Nathan Frederick (wife Karen), Ariana Frederick, Heather DeWig, and Paul DeWig; plus 5 great-grandsons, Steven, Jonathan and Zackary Singer, Hunter Dowd and Alex Frederick. He also left behind many nephews and nieces and great nephews and nieces.