Gus K. Eifler Jr. (1908-2003)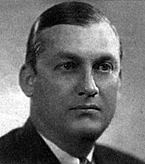 Gus K. Eifler Jr. was born in Taylor, Texas on February 14, 1908, and died April 18, 2003, in Austin, Texas, at age 95. As a child, Gus and his family moved to Austin, where he attended Austin public schools and graduated from Austin High School in 1925. He received his BA in 1929 and his MA in 1930 from UT-Austin. Gus was a member of Phi Beta Kappa, Sigma Xi and Sigma Gamma Epsilon as well as Pi Kappa Alpha a social fraternity. In 1941 Gus received his Ph.D. in Geology from Yale University, where he served as a Teaching Fellow. His dissertation on the geology of the Barilla Mountains of Texas was later published.
Gus served as a Captain in the US Army Air Force during WW II. He was a bombing instructor and was considered an expert on the Norden Bomb Sight.
Gus served the UT-Austin community for a considerable part of his career. He was a faculty member of the Department of Earth and Planetary Sciences between 1928 and 1951, except for the time he spent in the Air Force. A decline in enrollment in geology during the early war years led to such a reduction in the geology faculty that there was discussion, according to Keith Young, about the possibility of asking for Gus to be released from the Air Force to resume teaching at UT.
In 1951 Gus left the department to begin a private geological consulting business. From 1964 to 1973 Gus worked for the BEG, where he contributed extensively to the Geologic Atlas of Texas. He joined the BEG again to work on the Atlas project during most of 1975.