Edgar Wesley Owen (1896-1981)
Ed Owen was born June 20, 1896 in Hunstsville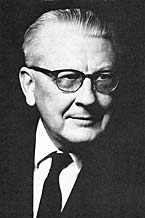 , Arkansas. In 1910 his family moved to Marietta,Ohio, where his maternal grandfather was an oil operator. Owen attended Marietta Academy from 1910 to 1912; then he switched to Denison College and received a BA degree in 1915. He attended the University of Missouri and received his Master's degree in 1916 on a project that started with his summer field course at the U of M. His first job was with the precursor to Cities Service Oil Co. mapping surface geology in Kansas and Oklahoma with a plane table and alidade in the search for anticlines. Two years later he joined Greenwood Oil Co. He was drafted into the army in 1918, but served only a few months before being discharged. Unsuccessful at job hunting after the war, Owen reentered Denison until joining an independent oilman, Mr. Keys. In 1927 he became the chief geology advisor for Lew Wentz, a major Texas oilman, a position Owen held for many years. In 1929 Owen and his wife, Ollie, moved to San Antonio, where they lived out their final years. Owen enlisted in the US Army Air Corps in 1941 and served in New Guinea and Australia in the photographic intelligence division. Attaining the rank of Lieutenant Colonel, he was awarded four campaign ribbons, five battle stars, a distinguished unit citation, and the Legion of Merit. His geologic experience with maps and aerial photos served him well in his military career.
In 1952 Ed Owen joined UT-Austin as a Lecturer to handle some of Ronald DeFord's classes while Ronald was out of the country. Owen moderated Technical Sessions, helped organize a History of Geology course soon to be required of all PhD students, and participated in graduate seminars. He provided counseling to students and spouses on the life styles and demands of petroleum geologists and their families. He harped on the need for professionalism and ethics in the oil business and encouraged students to learn all the basic sciences and geologic principles before starting a career as a geologist. He also encouraged all geology graduate students to become a member of the American Association of Petroleum Geologists as another way of fostering professionalism. He untiringly commuted from San Antonio to Austin twice a week until his "retirement" from departmental activities in 1976. He refused a salary from UT-Austin during his entire tenure.
Ed Owen supported the department also by his service on the Geology Foundation Advisory Council. He served from 1956 until 1970 as a regular member of the council and later as an Honorary Life Member. He was a valuable councilor because he knew the inner workings of the Department, its problems and goals.
Ed Owen received an honorary doctorate from Denison University in 1962, and in 1964 the AAPG awarded Ed its greatest honor, the Sidney Powers Medal.
The History of Geology course that Owen helped initiate at UT-Austin led to the compilation, with a few other collaborators, of a 1600-page documentary named Trek of The Oil Finders, a memoir volume published by the AAPG in 1975. In 1987 many of Ed Owen's recollections, written thoughts, and a few poems, edited principally by long-time friend Sam Ellison, were published under the title The Flavor of Ed Owen- A Geologist Looks Back.. This volume tells some of the life history and philosophy of a remarkable individual.
Ed Owen died February 24, 1981 at the age of 84.