Henry Gordon Damon (1883-1960)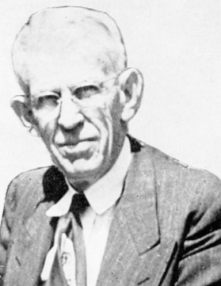 Henry Gordon Damon's early education was in the Corsicana Public Schools and Baylor University Preparatory School, but on account of poor health he was rarely able to complete a school term. He entered Baylor University in 1901 but was not able to finish the term because of ill health. His doctor ordered a change in climate and in 1902 Damon transferred to Vanderbilt University, where he graduated with a BS degree in 1906.
After graduation from Vanderbilt, Damon taught school for one year at Nacogdoches and then studied law at UT in 1907-1908. He received a license to practice law in 1908 and for the next nine years he practiced law in Corsicana. However his doctor felt that he should seek some work that would be less confining. Damon decided to try teaching again and in 1917-1918 he taught physics, chemistry, biology and mathematics at La Grange High School; in 1918-1919, he taught similar courses in Austin High School, and in 1919-1920, he taught physics, chemistry and general science at the San Antonio Military Academy. For the next four years (1920-1923) Damon was with the State Department of Education as Supervisor of Science. This position required him to visit the high schools of the state to determine whether the work in science was acceptable for accreditation. His health did not improve and his doctor advised him to seek work which would take him outdoors. It was at this point that Damon decided to take up geology. He had some acquaintance with the subject, because as early as the summer of 1919 Damon was a member of a field course in geology given by UT in the Llano region. He entered the graduate school at UT in the fall of 1923 and received the MA degree in geology in 1924. Prior to 1924, only 5 Master's degrees in geology had been granted by UT. Damon's first teaching in the Department of Geology at UT was in 1924-1925, when he taught laboratory sections of General Geology as a Tutor.
In 1925 Damon was appointed to an Instructorship and served for 35 years until his death, advancing to Assistant Professor in 1931 and to an Associate Professorship in 1943. Professor Damon's chief contribution to the Department during the early years of his tenure was in the organization of the laboratory work in general geology. Firmly convinced that the laboratory work was a very important part of a course in General Geology, he organized the material, planned filed trips, prepared a manual which was used for many years, and trained the instructors who were assigned to teach the various laboratory sections.
Professor Damon's chief interest in geology was in sedimentation and he decided to complete his doctorate in this field. He pursued his Ph.D. degree from the University of Iowa and completed it in 1940.
The discovery of the East Texas oil field in the early '30's and other stratigraphic-trap type fields increased interest in sedimentation and there was a demand for specialized courses in this field. Dr. Damon organized and taught the first course in sedimentation to be given at The University of Texas in 1939-1940. Other courses were added and by 1946 Dr. Damon was teaching two senior and one graduate course in sedimentation which he continued to do alone through 1951. Finally the load became too heavy for one man and Dr. Robert Folk was added to the staff and together they handled the teaching and graduate research in sedimentation until Dr. Damon's retirement.
Dr. Damon was primarily a teacher, although he was interested in research and always had several projects under way. However, his main contribution to research was through his students in the aid and direction of their research projects. Exceptions to this were the several summers he spent working on the tripoli and glass sand deposit of North Central Texas for the Bureau of Economic Geology. He supervised five master's students.
Damon kept up with the scientific literature by faithfully abstracting and cross-indexing most articles in his field until his last few months. He insisted that his students be equally well prepared and his favorite course was chiefly concerned with seeing that the students kept up with recent research by reviewing scientific articles for class discussion. His main interests in sedimentation were environments of deposition, processes of sedimentation, and heavy mineral studies.
Dr. Damon retired from active teaching in 1957 but he enjoyed good health and was in his office nearly every day until he suffered a heart attack in early January, which claimed his life on February 3, 1960.