Robert K. Goldhammer (1957-2003)
Dr. Robert K. Goldhammer, Assistant Professor at The University of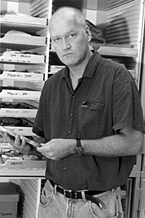 Texas at Austin, died May 26 in West Texas when the vehicle he was riding in overturned. Goldhammer was on his way to summer field camp with geology students from the Department of Earth and Planetary Sciences within the John A. and Katherine G. Jackson School of Geosciences when the accident occurred on Interstate 10 between Balmorhea and Fort Stockton.
A gifted teacher and scientist, Bob joined the Department of Earth and Planetary Sciences in January 2001 after working 12 years in the oil and gas industry and establishing himself as a world-renowned carbonate sequence stratigrapher. The classroom suited his dynamic personality and gave students the benefit of his extensive experience. Admired by his students for his wit and breadth of knowledge, he received the G. Moses and Carolyn G. Knebel Distinguished Teaching Award in the Department by election of his students in 2002—just a year after he joined the faculty—and the College of Natural Sciences Teaching Excellence Award in 2003.
Goldhammer earned his doctorate in geology at Johns Hopkins University in 1987, after working on his dissertation in The Dolomites, Italy. He received a master's degree in geology in 1982 from the University of Oklahoma and a bachelor's degree, with high honors in geology, in 1979 from Colgate University.
He began his career at Exxon Production Research Company in Houston as a Reservoir Geologist in May 1982. He worked a brief stint at Shell Development Company in 1987–88, where he developed a regional stratigraphic analysis of the Permian Basin. Goldhammer returned to Exxon in June 1988 as a Reservoir Specialist and focused on carbonate facies and sequence stratigraphy. His work at Exxon took him to Turkey, France, Australia, northeast Mexico, Guatemala, Belize, the Canadian Rockies, Alaska, West Texas, and Oklahoma. In November 1995, he came to the Bureau of Economic Geology at The University of Texas at Austin, where he worked for a year conducting international research on carbonate and clastic reservoirs. After leaving the Bureau, he worked briefly as a consultant in Houston before joining Sonat, where he remained for a year until the company was sold. He spent the next several years at Texaco before returning to the University to fulfill a dream to teach.
Besides writing many internal reports at Exxon, Goldhammer is also the author of many papers and abstracts in professional journals. He received the 1994 SEPM Outstanding Paper Award for his paper on sequence stratigraphy in West Texas, which was published in the Journal of Sedimentary Petrology. He served as an associate editor of the Journal of Sedimentary Research from 1992 to 1996. In addition to being a widely cited author, Goldhammer was a captivating speaker and in 1994–95 toured as a distinguished lecturer for the American Association of Petroleum Geologists (AAPG), of which he was a longtime member. Goldhammer also supported professional societies through service as a session chair and coordinator at annual meetings.
Reflecting on the loss to the geoscience community, longtime friend and Texas State Geologist Scott Tinker said, "Most of us add incrementally to scientific advancement. Bob was one of very few individuals who could make step changes in our science. He was most happy when he was teaching in the field. He had the rare ability to put together the complete geologic picture from the small windows offered by the Earth." Bob developed extensive field exercises that were popular training opportunities for other professionals. Fieldwork gave him the limitless horizons in which he thrived, and he led countless field trips at society conventions to areas such as northeast Mexico, northern Italy, West Texas, and southeast Utah.
Friends, colleagues, and students of Dr. Goldhammer will mourn the loss of this energetic and brilliant scientist. His professional work was a standard in the field of sequence stratigraphy upon which many will build. His publications will endure. And his connection with others will be remembered as a gift to be cherished by those who were fortunate to call him a friend.
Goldhammer leaves behind his beloved wife of 10 years, Ursula "Uschi" Hammes, fellow geologist whom he met while leading a field trip in The Dolomites, Italy, and their daughter, Nora, 4, and son, Max, 1. He is also survived by his parents, Robert F. Goldhammer and Joan O'Neill, and his brother, Richard Goldhammer, and sister, Susan Davis.
A memorial fund reflecting his love for his students has been established with the American Association of Petroleum Geologists in honor of Goldhammer. The family has asked that those wishing to make a contribution for the benefit of student research in carbonates send donations payable to the AAPG Foundation for the Robert K. Goldhammer Memorial Grant (Attn: Diane Keim, P.O. Box 979, Tulsa, OK 74101).
Arrangements were handled by Weed-Corley-Fish Funeral Home at 3125 North Lamar Boulevard, Austin, Texas. There was a celebration of life—Bob's life and the student who was killed, Raquel V. De Savariego, those students who survived the accident and are healing, and for all of those whose lives were touched by Bob and Raquel—on Saturday, May 31, from 4:00 to 7:00 p.m. at the Lila B. Etter Alumni House (UT Alumni Center) on the University campus.